Multimodal Transportation
Northeast Regional Planning Commission's role in planning for the transportation needs of its six-county region does not stop with roads and bridges.
The RPC and its Transportation Advisory Council are charged with working with the Missouri Department of Transportation and the United States Department of Transportation to plan for all modes of transportation.
Multimodal transportation encompasses freight movement, including over-the-road trucking, rail, air, and waterways. Airports, train stations, rail crossings, pipelines, river ports, and much more are at the center of the Show-Me State's key role as a national logistics hub. These facilities also have active roles in the movement of people including passenger rail services and commercial and private air traffic. Multimodal also includes public transit options such as trains and buses, as well as bicycle and pedestrian travel routes such as trails and sidewalks.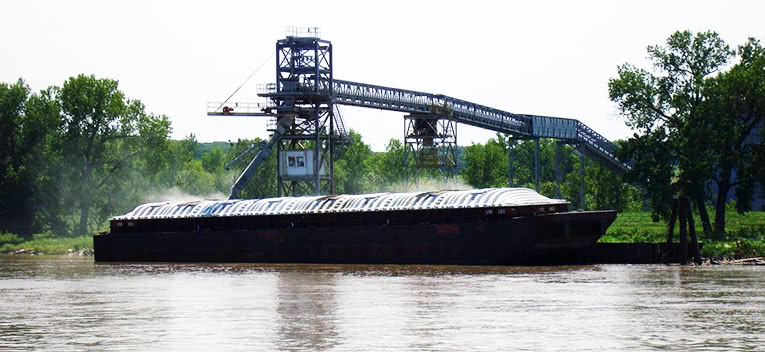 In 1990, the lone port facility in the six-county service area of the NEMO RPC was officially established. The Lewis County Port Authority provides barge operations support at its facility in Canton meeting the needs of grain, liquid fertilizer, and dry bulk goods shippers.
In 2016, nearly 1.3 million tons of corn, soybeans, wheat, rip rap, liquid fertilizer, and distiller's dried grains with an estimated economic impact of $8.5 million passed through the port facility according to the MoDOT Lewis County Port data. View the MoDOT report on the economic impacts of public ports.
In close proximity to Highway 61 as well as a BNSF rail line, the facility is looking to expand to add container-on-barge, loading/unloading of over-size/over-weight shipments, and river maintenance support.
Corn Belt Ports – Defined by the Heart of the USDA Corn and Soybean Production Region Served by Marine Highways above Locks and Dam 26 on the Upper Mississippi River and the Illinois Waterway in the Tri-State Area. The Corn Belt Ports Collectively Rank as the Nation's 25th Largest Port and 6th Largest Inland Port Based on Tonnage Handled (2018 Estimate).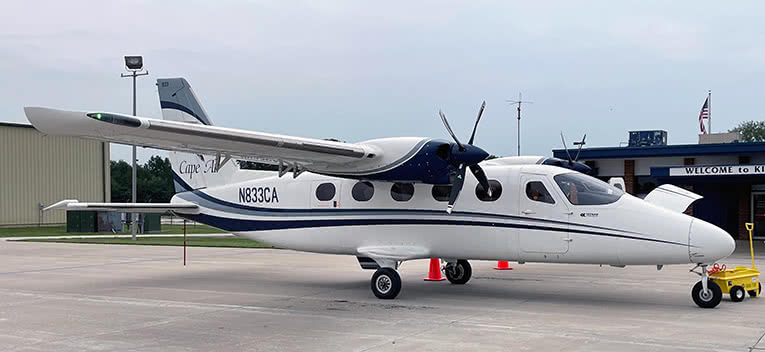 Originating as an emergency landing strip built in 1930 as part of the Federal Aviation Administration's efforts to expand aviation opportunities, the Kirksville Regional Airport waited until the early 1940s for its first paved landing surface as part of the national efforts related to World War II.
Today the facility offers a 6,005 x 100-foot north-south runway with an instrument landing system and advanced runway light systems supporting commercial services and capable of servicing large corporate jets.
Cape Air offers commercial flights to Lambert International Airport in St. Louis three times a day during the week.
Briggs-Smith Memorial Airport - Memphis Municipal
The Scotland County airport located west of Memphis, MO on Highway 136 features a 3,300 x 60-foot paved landing strip.
Lewis County Regional Airport
The Lewis County Airport located near Monticello, MO features a 3,500 x 60-foot paved runway.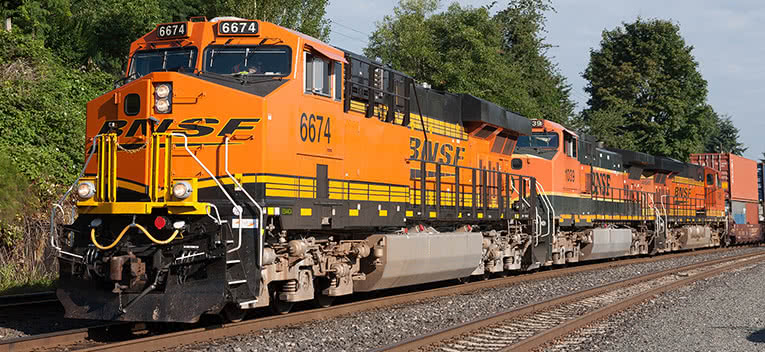 According to the most recent Missouri State Rail Plan, the Show-Me State ranks fourth in the nation in the total tonnage of rail traffic originating, terminating, or passing through the state.
The 2012 report highlighted the significant impact on Missouri's economy the rail industry has, generating $2.8 billion in Gross State Product (GSP) while creating more than 8,200 rail industry jobs plus an estimated 17,985 indirect and induced jobs through industry and employee consumer spending. An estimated $19.8 billion in commodity exports were shipped from Missouri by rail, generating $655.2 million in net Missouri general revenues, $8.7 billion in personal income, $13.4 billion in GSP, and $32.4 billion in total state output.
Burlington Northern Santa Fe Railway
Burlington Northern Santa Fe Railway (BNSF) owns or maintains operating rights on more than 1,750 miles of rail line across Missouri including the Class 1 large line haul freight railroad that crosses Adair, Knox, Scotland, and Clark counties as it connects Kansas City, MO to Chicago, IL. BNSF also operates a line that follows the Mississippi River across the region from St. Louis, MO to Keokuk, IA, passing through Lewis and Clark counties.
While the concept of multimodal offerings for bikers and pedestrians often focuses on parks and trails, the National Complete Streets Association has long championed the idea that all people ought to have safe, comfortable, and convenient access to community destinations and public places–whether walking, driving, bicycling, moving actively with assistive devices, or taking public transportation.
The NEMO RPC works with member cities and counties through the MoDOT Transportation Alternative Program (TAP) to help secure funding for sidewalk improvements and other pedestrian traffic upgrades.
TAP originated in the Moving Ahead for Progress in the 21st Century Act (MAP-21) federal transportation bill and was reauthorized under the Fixing America's Surface Transportation (FAST) Act, which expired in September 2020 before being extended for one year.
The federal funds focus on non-traditional transportation projects, which must relate to the surface transportation systems and be used in one of four categories:
Construction of on-road and off-road trail facilities for pedestrians, bicyclists, and other non-motorized forms of transportation, including sidewalks, bicycle infrastructure, pedestrian and bicycle signals, traffic calming techniques, lighting, and other safety-related infrastructure, and transportation projects to achieve compliance with the Americans with Disabilities Act of 1990;
Construction of infrastructure-related projects and systems that will provide safe routes for non-drivers, including children, older adults, and individuals with disabilities to access daily needs;
Conversion and use of abandoned railroad corridors for trails for pedestrians, bicyclists, or other non-motorized transportation users; and
Construction of infrastructure-related projects to improve the ability of students to walk and bicycle to school, including sidewalk improvements, traffic calming and speed reduction improvements, pedestrian and bicycle crossing improvements, on-street bicycle facilities, off-street bicycle and pedestrian facilities, secure bicycle parking facilities, and traffic diversion improvements in the vicinity of schools.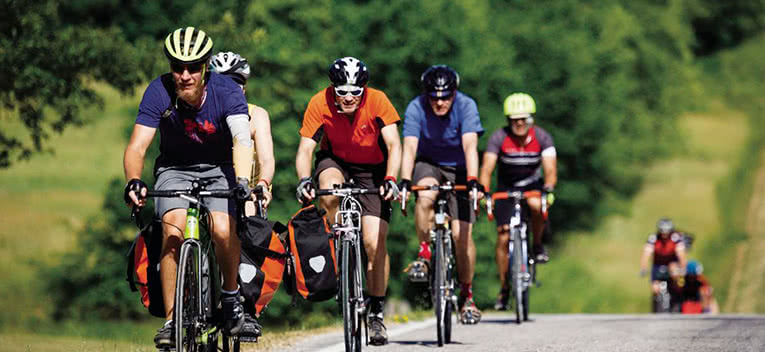 Additional Bike/Ped Links
The City of Canton offers an easily accessible 2,000-foot-long concrete trail along the Mississippi River atop the community's levee. Public access is available, with parking near the trailhead at First and Lewis Streets or the steps from the MO Department of Conservation boat ramp area at 400 N Front Street. The trailhead features an observation deck as well as an information kiosk.
1000 Hills State Park Trails
The state park near Kirksville, MO offers a series of four trails for hikers, walkers, and joggers that pass through the park's wooded areas and offer a taste of nature to go along with a bit of exercise for their users.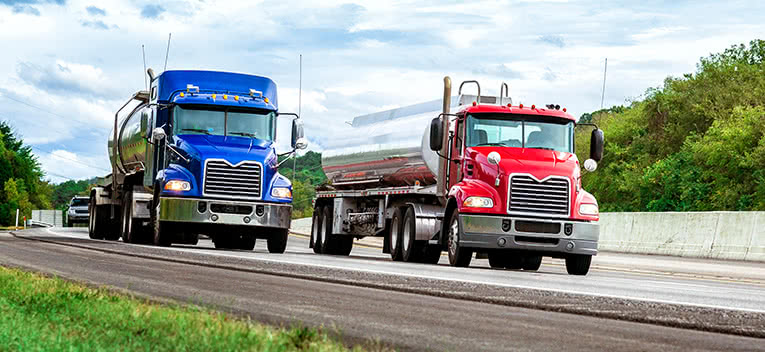 The state's multimodal freight system, utilizing trucks, planes, barges, and trains, transports more than 1 billion tons of freight valued at over $1.2 trillion per year.
As the Missouri Freight Plan notes, making smart investments in this system can help provide better options for Missouri businesses to get their products to market while also lowering transportation costs and creating jobs.
Areas of focus for the future needs of freight include:
MAINTENANCE: Keep highways and bridges in good condition and support maintenance of railways, waterways, airports, and multimodal
connections.
SAFETY: Work to decrease the number and severity of crashes involving commercial vehicles and improve safety at railroad crossings.
ECONOMY: Economic growth across the state depends on strategic improvements to the freight system; which also are crucial to maintaining the state's competitiveness in a national and global market.
CONNECTIVITY/MOBILITY: Work to reduce congestion and increase the reliability of all methods of transportation while also improving connections between freight modes.
ENVIRONMENTAL: Reduce and/or mitigate the adverse environmental impacts of freight.
TECHNOLOGY: Institute policies and practices that support the continued utilization of innovative practices that make the movement of freight safer and more efficient.
Freight passes through the NEMO RPC region via a pair of BNSF rail lines, the Mississippi River and US 61 and US 63.
Local freight often travels on state-lettered routes, "farm to market roads", before connecting with minor highway arteries such as MO 15, MO 136, Mo 6, MO 11, and MO 16.