Solid Waste Management
District Region C
The State of Missouri Solid Waste Districts were created and authorized by the State of Missouri Solid Waste Act of 1992, Revised Mo Statutes. The Northeast Missouri District was formed in 1993 under these statutes with an appointed Solid Waste Council from the County Commissions of Adair, Clark, Knox, Lewis, Schuyler, and Scotland Counties. The NEMO Solid Waste District Council membership is set by the statutes as two representatives from each county, and one representative from each incorporated community over a population of 500. The Solid Waste Council has an Executive Board of Directors is elected consisting of twelve members.
The NEMO Solid Waste Management District, Region C, has no employees and contracts with the NEMO Regional Planning Commission to perform administrative duties assigned by the MO Department of Natural Resources. NEMO RPC staff devotes time toward the development and implementation of a solid waste management plan for the six-county area and oversees the regulatory and administrative documents necessary to stay in compliance with state statutes.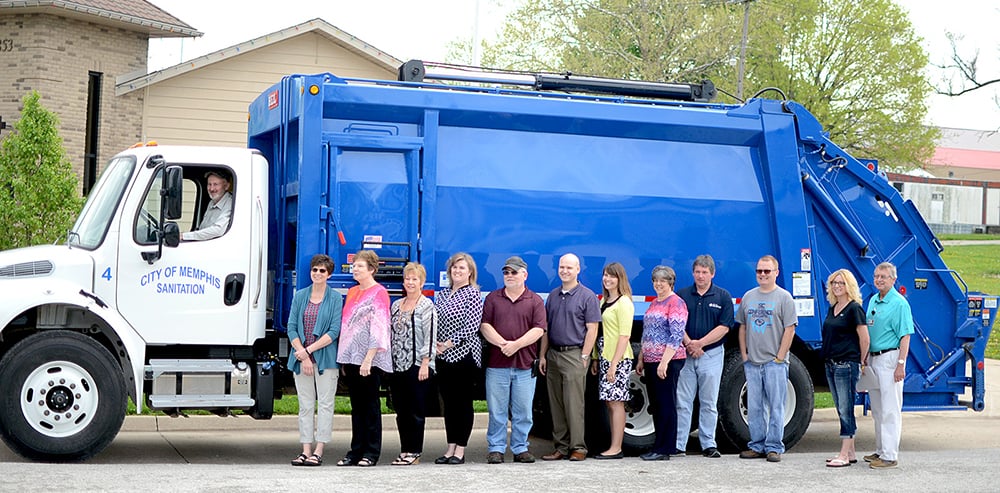 Grants to Fund
Recycling Efforts
The NEMO Solid Waste Management has funded numerous projects since 1993. These grants have awarded funds in an amount exceeding $2,000,000 toward recycling efforts in the six-county area of Northeast Missouri. Those funds have enabled businesses and non-profit organizations to implement projects promoting principles of recycling, reducing, reuse that otherwise would not have been possible. Projects that involve recycling may be eligible for a grant from the NEMO Solid Waste District. The grant cycle is typically advertised one or two times prepared with project implementation beginning upon DNR approval.
One of the largest responsibilities of the Northeast Missouri Solid Waste Management District is the education of our staff and citizens of our community. The District has done various things to accomplish those responsibilities. The staff attend seminars and conferences to further their knowledge in the area of recycling. Staff also attend trainings by the Missouri Department of Natural Resources to ensure that they are in compliance with reporting and regulatory requirements that the State of Missouri imposes.
Education of the citizens of our region is done in a variety of different ways. The District has sent our pamphlets to individuals and distributed them throughout the community. Staff have done the morning radio station show describing the Solid Waste program and the importance of recycling. The staff spend time working in a state-wide solid waste management district booth at the Missouri State Fair to promote products made from post-consumer materials in the state of Missouri. The staff are also available to do presentations at any local meetings of local organizations.
The District has approved grants for local organizations to expand their facilities and conduct research projects. With the help of those grant funds, these agencies have been able to purchase equipment such as balers and conveyors, which enhance their processing capabilities and enable them to provide better services to the communities for recycling activities. In addition to processing equipment, these facilities have used grant funds to purchase trailers for collection of recycled materials. These trailers are located at local businesses and drop-off spots among the communities. These trailers enable the recycling agencies to serve the businesses in a better manner and also make it possible for the recycling center to reach citizens that do not have recycling drop-off sites in their area.
In addition, the district also provides funds to Cities and Counties to spotlight equipment that can be used to promote awareness for recycling functions. These activities include drop-off trailers in the community, park equipment made with recycled material, chippers used to reduce material going to the landfill, and a permanent household hazardous waste facility.